Join Us For Divine Services
Holy Communion each Sunday
Second and Fourth Sundays
Holy Communion every service
Wednesday Divine Services at 3:30PM
No Services June-July-August 2023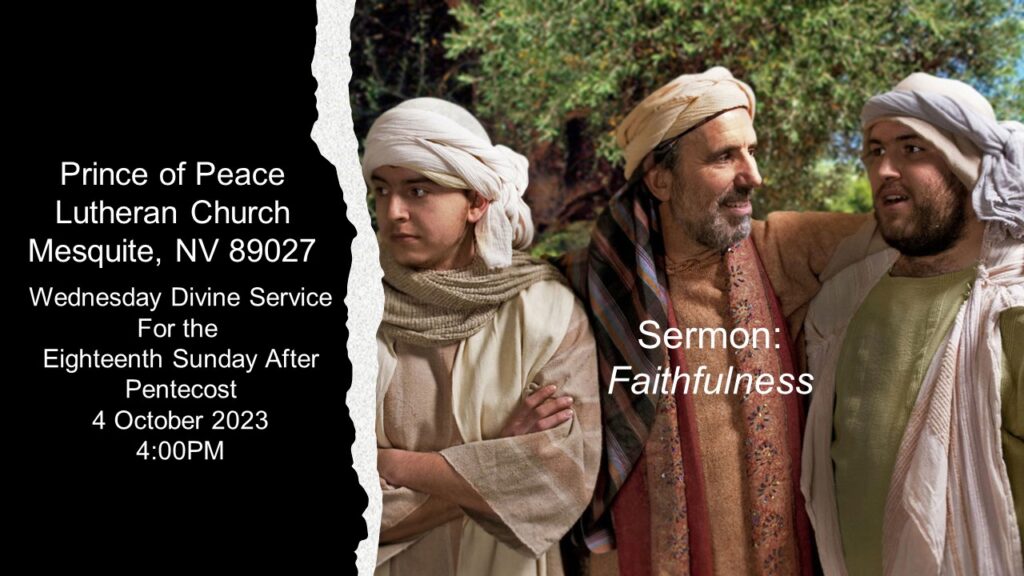 EIGHTEENTH SUNDAY AFTER PENTECOST
Proper 21
1 October 2023
Ezekiel 18:1–4, 25–32
Philippians 2:1–4 (5–13) 14–18
Matthew 21:23–27 (28–32)
The Cross of Christ Opens to Us the Way of Repentance to Life with God
The way of the Lord is righteous and just: "The soul who sins shall die" (Ezek. 18:4). However, because the Lord has "no pleasure in the death of anyone" (Ezek. 18:32), He calls sinners to repentance and faith in His gracious forgiveness of sins. The man who is thus turned away from his wickedness, who henceforth lives by the grace of God, "shall surely live; he shall not die" (Ezek. 18:28). This way of repentance has been opened for us by the cross of Christ. In the righteousness of faith and love, "he humbled himself by becoming obedient to the point of death" (Phil. 2:8), and He was vindicated in His resurrection from the dead. Indeed, "God has highly exalted him and bestowed on him the name that is above every name" (Phil. 2:9). He has given us this name in our Baptism into Christ, in whom we now "shine as lights in the world" (Phil. 2:15). He uses the authority that He has received from His Father (Matt. 21:23–27) to preach a baptism of repentance for the forgiveness of sins, by which even "the tax collectors and the prostitutes go into the kingdom of God" (Matt. 21:31–32).
Matthew 21:23–27 (28–32)
The Authority of Jesus Challenged
23 And when he entered the temple, the chief priests and the elders of the people came up to him as he was teaching, and said, "By what authority are you doing these things, and who gave you this authority?" 24 Jesus answered them, "I also will ask you one question, and if you tell me the answer, then I also will tell you by what authority I do these things. 25 The baptism of John, from where did it come? From heaven or from man?" And they discussed it among themselves, saying, "If we say, 'From heaven,' he will say to us, 'Why then did you not believe him?' 26 But if we say, 'From man,' we are afraid of the crowd, for they all hold that John was a prophet." 27 So they answered Jesus, "We do not know." And he said to them, "Neither will I tell you by what authority I do these things.
The Parable Of The Two Sons
28 "What do you think? A man had two sons. And he went to the first and said, 'Son, go and work in the vineyard today.' 29 And he answered, 'I will not,' but afterward he changed his mind and went. 30 And he went to the other son and said the same. And he answered, 'I go, sir,' but did not go. 31 Which of the two did the will of his father?" They said, "The first." Jesus said to them, "Truly, I say to you, the tax collectors and the prostitutes go into the kingdom of God before you. 32 For John came to you in the way of righteousness, and you did not believe him, but the tax collectors and the prostitutes believed him. And even when you saw it, you did not afterward change your minds and believe him.
Sermon: Faithfulness
Grow stronger with us as we
gather at the feet of Jesus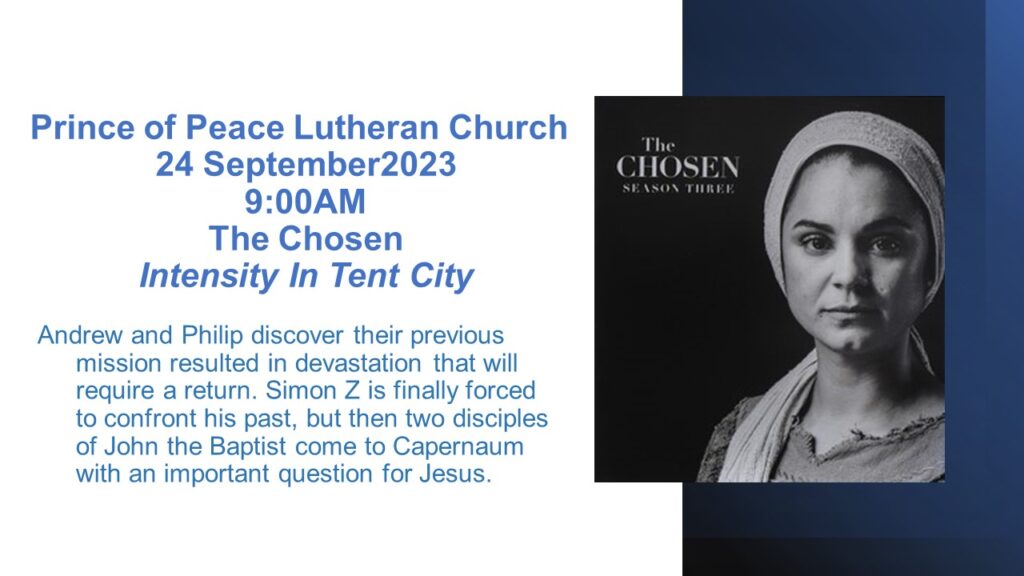 Wednesday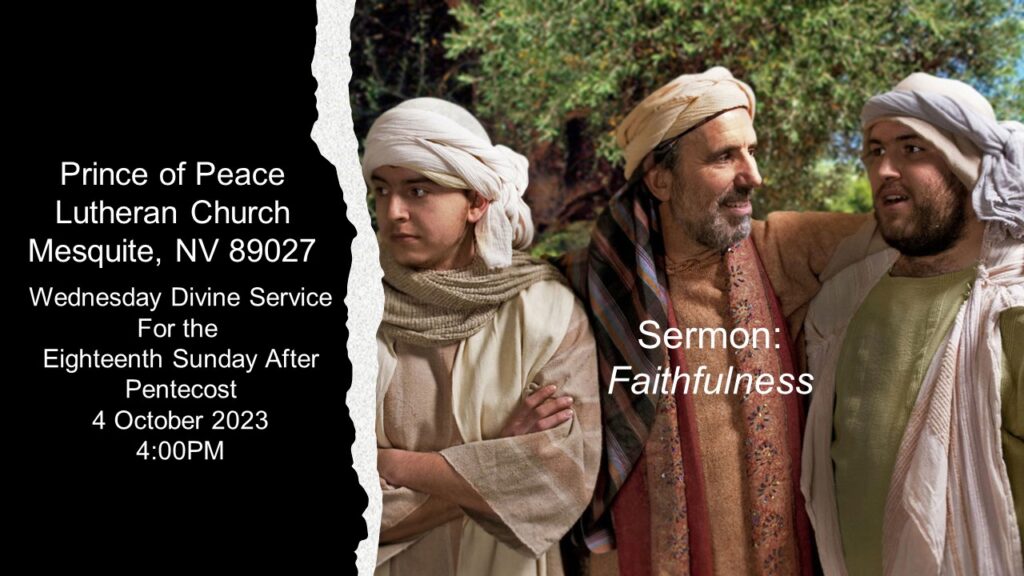 FELLOWSHIP
The Bible advises us to continue in fellowship with other believers. There is a reason for that! It edifies us, keeps us accountable, makes us more transparent and unplugs us from our secluded self-centered lives. We learn to share, invite-in, commune and interact with other believers.

GENEROSITY
We are givers at heart and we model that in our lives. We do not believe in creating a mega church with lots of beautiful buildings and facilities. Rather, we believe in giving back. A healthy community is ripe to hear God's Word. We invite our members to give to any of our community programs on a regular basis.



GROWTH
If you attend Prince of Peace Lutheran Church and you do not experience of love of Jesus and His love in us, then we did something wrong.
That is why it is very important to us that you are fed the true Heavenly Manna and drink God's Living Water.
A living faith in Jesus, not ritualism, provides peace and truth in every aspect of your daily life.
God is our only hope for He is our Savior.