SERMONS
Sunday – Divine Services: 10: 15am
Holy Communion Each Sunday
Wednesday – Midweek Services: 5:00PM
No Holy Communion at Midweek Services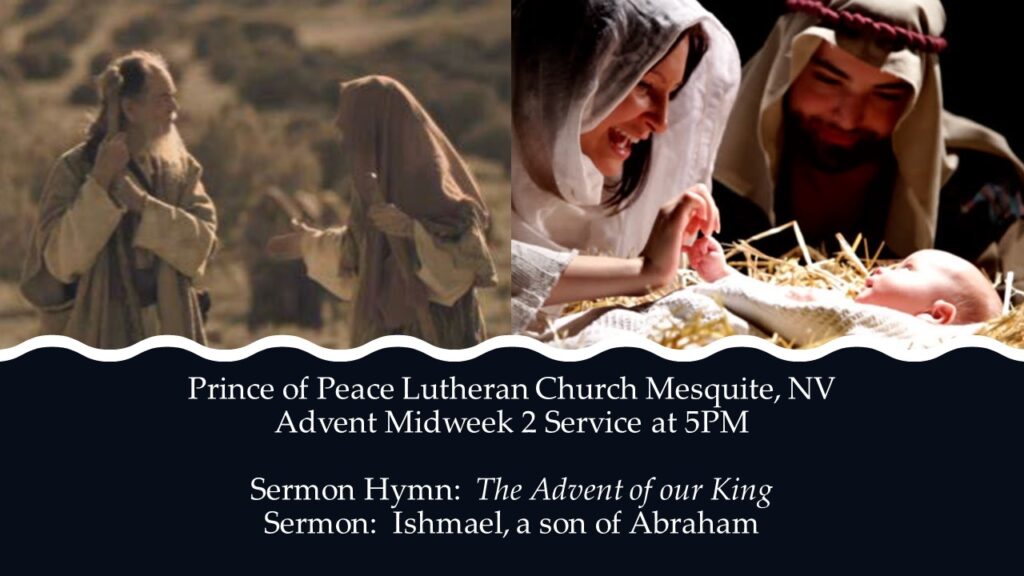 After years of waiting for God to fulfill His promise of a son, Abraham and Sarah decided to take things into their own hands. Rather than activate God's promise, it kick-started a story of pain and resentment. Abraham and Sarah were supposed to wait on God's plan and His timing. In His time, God sent them Isaac. Generations later, when the time was right, God sent forth His Son, to a waiting world. Jesus, the true Son of Abraham, makes us all part of God's family and one of the many sons of Abraham. How many sons did Abraham have? More than the stars in the sky. I am one of them, and so are you.
Old Testament: Genesis 16: 1 – 16
Sarai and Hagar
1Now Sarai, Abram's wife, had borne him no children. She had a female Egyptian servant whose name was Hagar. 2 And Sarai said to Abram, "Behold now, the Lord has prevented me from bearing children. Go in to my servant; it may be that I shall obtain children[a] by her." And Abram listened to the voice of Sarai. 3 So, after Abram had lived ten years in the land of Canaan, Sarai, Abram's wife, took Hagar the Egyptian, her servant, and gave her to Abram her husband as a wife. 4 And he went in to Hagar, and she conceived. And when she saw that she had conceived, she looked with contempt on her mistress.[b]5 And Sarai said to Abram, "May the wrong done to me be on you! I gave my servant to your embrace, and when she saw that she had conceived, she looked on me with contempt. May the Lord judge between you and me!" 6 But Abram said to Sarai, "Behold, your servant is in your power; do to her as you please." Then Sarai dealt harshly with her, and she fled from her.
7 The angel of the Lord found her by a spring of water in the wilderness, the spring on the way to Shur. 8 And he said, "Hagar, servant of Sarai, where have you come from and where are you going?" She said, "I am fleeing from my mistress Sarai." 9 The angel of the Lord said to her, "Return to your mistress and submit to her." 10 The angel of the Lord also said to her, "I will surely multiply your offspring so that they cannot be numbered for multitude." 11 And the angel of the Lord said to her,
"Behold, you are pregnant
and shall bear a son.
You shall call his name Ishmael,[c]
because the Lord has listened to your affliction.
12 He shall be a wild donkey of a man,
his hand against everyone
and everyone's hand against him,
and he shall dwell over against all his kinsmen."
13 So she called the name of the Lord who spoke to her, "You are a God of seeing,"[d] for she said, "Truly here I have seen him who looks after me."[e]14 Therefore the well was called Beer-lahai-roi;[f] it lies between Kadesh and Bered.
15 And Hagar bore Abram a son, and Abram called the name of his son, whom Hagar bore, Ishmael. 16 Abram was eighty-six years old when Hagar bore Ishmael to Abram.
Footnotes
Time of the Church: Christmas; Advent
Color: Blue
Divine Service: Creative Worship
Introit: Psalm 105: 4 – 8 antiphon: Isaiah 40: 3b
Old Testament: Isaiah 11: 1 – 10
Psalm Psalm 72: 1 – 7 antiphon: verse 18
Epistle: Romans 15: 4 – 13
Gradual: Zechariah 9: 9; Psalm 118: 26. alt
Verse: Luke 3: 4b, 6
Gospel: Matthew 3: 1 – 12
Proper Preface: Advent
By the Preaching of Repentance, We Are Prepared for the Coming of the Lord
"John the Baptist came preaching in the wilderness of Judea, 'Repent'" (Matt. 3:1–2). His preaching of repentance for the forgiveness of sins prepared people for the coming of Christ into the world. St. John's work was historically complete with the incarnate advent of Jesus, but his vital ministry continues in preaching Law and Gospel. The Son of God has come in the flesh, "a shoot from the stump of Jesse, and a branch from his roots" (Is. 11:1), and continues to bear the fruits of righteousness. His good tree of the cross is "a signal for the peoples" (Is. 11:10), by which He calls the nations to repentance. "With the rod of his mouth, and with the breath of his lips" (Is. 11:4), He slays the wicked and brings the dead to life, making sons of Abraham out of lifeless stones. So also the "root of Jesse" comes to us, "even he who arises to rule the Gentiles" (Rom. 15:12), that "we might have hope" and be filled "with all joy and peace in believing" (Rom. 15:4, 13).
Gospel: Matthew 3: 1 – 12
John the Baptist Prepares the Way
1In those days John the Baptist came preaching in the wilderness of Judea, 2 "Repent, for the kingdom of heaven is at hand."[a]3 For this is he who was spoken of by the prophet Isaiah when he said,
"The voice of one crying in the wilderness:
'Prepare[b] the way of the Lord;
make his paths straight.'"
4 Now John wore a garment of camel's hair and a leather belt around his waist, and his food was locusts and wild honey. 5 Then Jerusalem and all Judea and all the region about the Jordan were going out to him, 6 and they were baptized by him in the river Jordan, confessing their sins.
7 But when he saw many of the Pharisees and Sadducees coming to his baptism, he said to them, "You brood of vipers! Who warned you to flee from the wrath to come? 8 Bear fruit in keeping with repentance. 9 And do not presume to say to yourselves, 'We have Abraham as our father,' for I tell you, God is able from these stones to raise up children for Abraham. 10 Even now the axe is laid to the root of the trees. Every tree therefore that does not bear good fruit is cut down and thrown into the fire.
11 "I baptize you with water for repentance, but he who is coming after me is mightier than I, whose sandals I am not worthy to carry. He will baptize you with the Holy Spirit and fire. 12 His winnowing fork is in his hand, and he will clear his threshing floor and gather his wheat into the barn, but the chaff he will burn with unquenchable fire."
Footnotes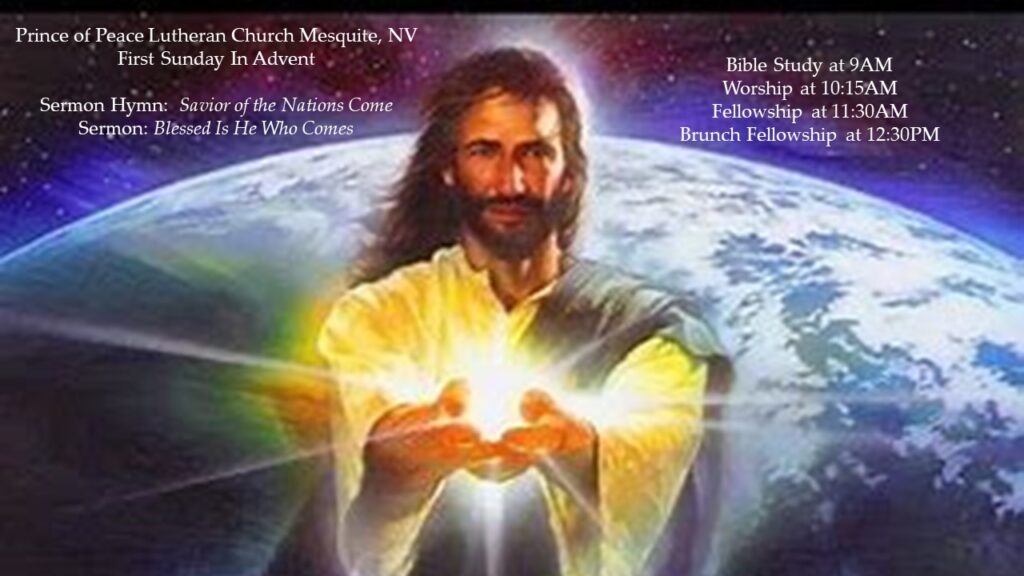 FIRST SUNDAY IN ADVENT
27 November 2022
Isaiah 2:1–5
Romans 13:(8–10) 11–14
Matthew 21:1–11
The Lord Comes in Meekness and Humility to Save Us Now
The Lord Jesus enters Jerusalem "humble, and mounted on a donkey," riding on "a beast of burden" (Matt. 21:5), as He Himself bears the sins of the world in His body. Now He comes by the ministry of the Gospel to save us from sin, death, the devil and hell. Therefore, we sing, "Blessed is he who comes in the name of the Lord!" (Matt. 21:9). For we are called "to the mountain of the Lord, to the house of the God of Jacob," His Holy Church, "that he may teach us his ways and that we may walk in his paths" (Is. 2:3). By His Word, we "walk in the light of the Lord" (Is. 2:5). That is to live in love, which "does no wrong to a neighbor" (Rom. 13:10). We "cast off the works of darkness and put on the armor of light," for "salvation is nearer to us now than when we first believed" (Rom. 13:11, 12). Hence, the entire Christian life is a time to wake and watch, "for you do not know on what day your Lord is coming" (Matt. 24:42).
Gospel: Matthew 21: 1 – 11
Now when they drew near to Jerusalem and c
ame to Bethpage, to the Mount of Olives, then Jesus sent two disciples, saying to them, ""Go into the village in front of you, and immediately you will find a donkey tied, and a colt with her. If anyone says anything to you, you shall say, 'The LORD needs them' and he will send them at once." This took place to fulfill what was spoken by the prophet, saying, "Say to the daughter of Zion, 'Behold, your king is coming to you, humble, and mounted on a donkey, on a colt, the foal of a beast of burden.'"
The disciples went and did as Jesus had directed them. They brought the donkey and the colt and put on them their cloaks, and he sat on them. Most of the crowd spread their cloaks on the road, and others cut branches from the trees and spread them on the road. And the crowds that went before him and that followed him were shouting, "Hosanna to the Son of David! Bless is he who comes in the name of the LORD! Hosanna in the highest! And when he entered Jerusalem, the whole city was stirred up, saying, "Who is this? " And the crowds said, "This is the prophet Jesus from Nazareth of Galilee."